Forks of the Kern
The most spectacular Class V trip in the country
your class v overnight kern river experience
Class V thrills on the Forks of the Kern
Mile for mile, no stretch of whitewater in North America compares to the Forks of the Kern. This 17 mile rafting trip features huge Class V drops and continuous Class IV whitewater framed by some of the most spectacular canyon scenery in the west. Space is limited and trips fill quickly, so please call or email to inquire about dates.
An inside look:
Forks of the Kern Photo Gallery
Photos from this rafting trip.
Quick Facts
Trip Meeting Place: 6602 Wofford Blvd, Wofford Heights, CA 93285.
Trip meeting time: Evening before your trip
Minimum Age: 16 years old.
Trip Cost
Any launch: $1199
Does not include 6% government and service fee
At a Glance
Approximately 17 miles of rafting, split into two full days.
Rapids are Class III, IV & V.
Meals included are day 1 lunch, day 1 dinner, day 2 breakfast, and day 2 lunch.
There is a 3-mile hike to the put-in on day-1.
2023 Forks of the kern
"It's either 80 rapids in quick succession or one really, really long one." -National Geographic
About the Forks
The Forks of the Kern has some of the world's most famous whitewater – but the trip is more than just rapids. The canyon that we travel through offers beautiful side-hikes to towering waterfalls, amazing views of the "Needles", and spectacular camping spots along the banks of the river.
This trip is best suited for individuals with prior rafting experience who are in good physical condition. Back-to-back Class V rapids after a 3-mile hike into the canyon means even those in good shape are challenged by this beautiful and remote stretch of whitewater.
Join the Interest List
Joining the interest list will update you on the Forks season schedule. It is the best way to join our trips.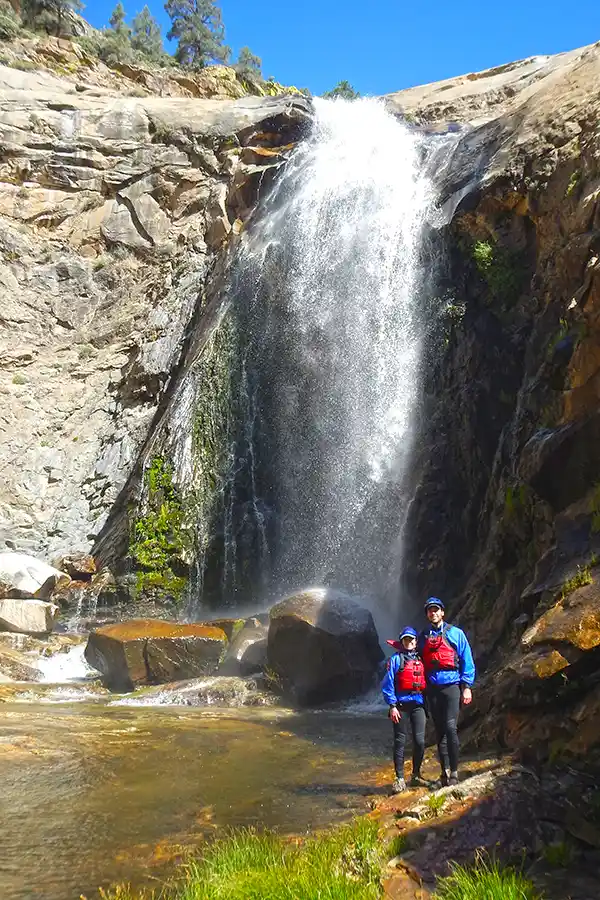 Five Star Experience
More five star reviews than any other rafting company in Southern California.
And featured in: