2024 whitewater adventures
Kern River Rafting
the best and closest rafting for all of Southern California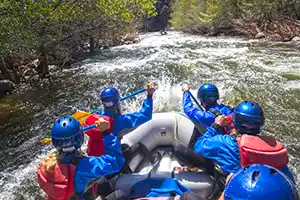 Last Trip date: 9/17/23
Rapids, jump rocks and more.
Thank you for an amazing 2023 Kern river rafting season. The 2024 season Kicks off in April.
We are offering Upper and Lower Kern rafting trips for the 2024 river rafting season. Our license strictly limits the number of trips we can run. If you are planning a group or charter trip, or planning to join us on a weekend, early reservations are essential. Looking for rafting near Los Angeles? The Kern River is the closest rafting option to LA, only 3 hours away. Please call us soon to reserve a date or book online now.
Five Star Experience
More five-star reviews than any other rafting company in Southern California.
And featured in:
Why Choose Kern River Outfitters for your 2024 Kern River rafting trip?
We are an award-winning outfitter known for exceptional service and running carefully structured, exhilarating rafting trips with a crew of well-trained guides. Our goal is simple: Provide you with a whitewater rafting experience that is so much fun that you will return for another trip.
April – august
Get ready for the best summer getaway ever!