There are so many ways that the Kern will surprise you. World class rafting, hot springs, and craft beer are just the beginning. Settle in for a few nights, or a week, and explore a little deeper. If you're willing to walk a few miles along one of the creeks that drains into the Kern, you'll find a wonderland of surprises.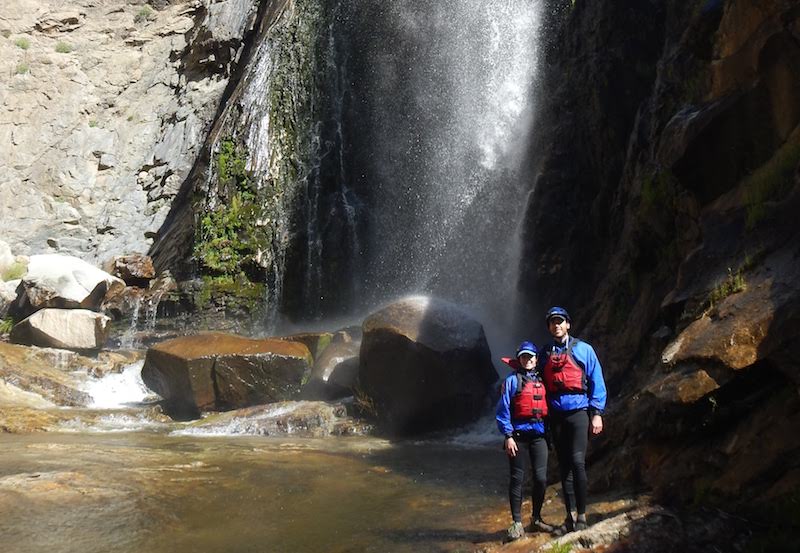 Peppermint Creek Falls
During high water, Peppermint is a strong waterfall flowing into the Upper Kern, halfway between Johnsondale and the Forks of the Kern. When the runoff is a little lighter, a series of pools are linked together by a stream flowing over rock slabs. It's a great location to cool off in the water and then warm up on smooth rock surfaces surrounding the pools. If you think you've gone as far as you can, look for the EASY rock scramble that will get you to the pool just below. If you can't find an easy way down, you've gone far enough! Welcome to paradise. Learn more here.
Packsaddle Cave
Bring your flashlight and dive into this geological wonder, not far from the Fairview campground, but far enough to get away from the big crowds along the Kern. Packsaddle Cave sits above Packsaddle Creek. If you're brave enough to explore deeper, you might see stalactites and stalagmites in one of the corridors attached to the main cave. Learn more here.
Freeman Creek Sequoia Grove
When it comes to viewing sequoia trees, the masses haul their asses to The Trail of Hundred Giants. It's definitely an awesome sight, but there are less-famous, equally majestic groves all throughout the area. The George Bush Tree is a short walk from the Freeman Creek Trailhead and serves as a formidable example of the unsung majesty of the less famous sequoia trees living all throughout the Kern River area. Learn more here.
Alder Creek Slabs
This natural water slide is totally worth the uninspiring walk along a dirt road. Pack a picnic, bring a blanket, and find the intersection of Dry Meadow Creek and Alder Creek. Follow the shrieks of fun-loving slip n' sliders to this hidden water feature. Learn more here.
This blog post is just the tip of the iceberg.
Spend a little time in the Kern River Valley, talk to the locals, go on a rafting trip, and you'll learn there's so many other special spots.
Make sure you pick up The Kern River Sierra Outdoor Recreation Topo Map. The people who made this map were geniuses, and they had YOU in mind when they made it. Get the map and visit their website. They compliment one another so nicely.
Check with the Kernville Ranger Station to find out about trail closures or other special information. They're open Monday through Friday, 8:00 am – 4:30 pm.
Kernville Ranger Station
11380 Kernville Road
P.O. Box 9
Kernville, CA 93238
760-376-3781
TDD Available
Safety First
Temperatures are generally in the 90's and low 100's during the summer. It's awesome weather for being in the river or tromping around in the creeks that feed it, but always remember the following;
Drink water – lots
Wear sun protection – hats, sunscreen, or light weight long sleeves
Wear a PFD in the river – we rent them for free at Kern River Outfitters!