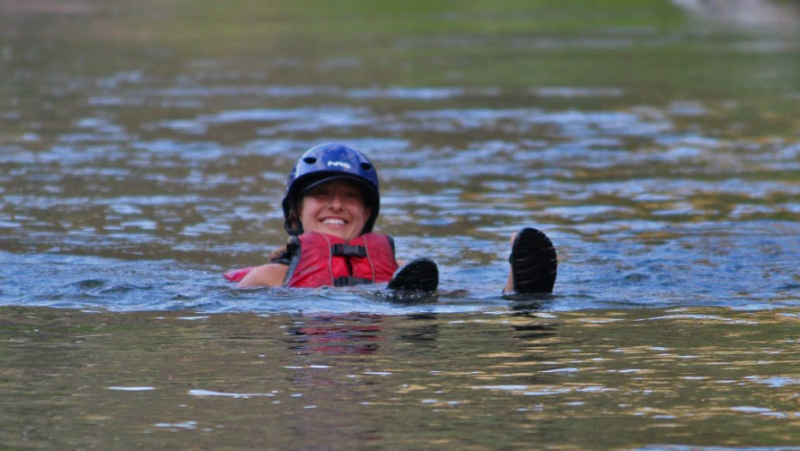 2023 update – IMPORTANT
While the below article covers all water flows for the Kern river, it's important to understand the impacts of our large snowpack for the 2023 Kern river season. This year we are looking at a record-breaking snowpack, which means the runoff will be high. For this reason, I am forecasting that there will be no safe water flows for swimming during the entire spring and summer of 2023. Do not swim in the Kern River this season unless you're on a guided whitewater trip and your guide tells you it's okay to enter the water. We will update this as we learn more about river flows but at this time it is too early to predict when flows will come down.
Below is the original article from 2020.
Not just where, but when, with what & how
Our official stance is you shouldn't swim in the Kern River unless you're with a guide and while wearing a PFD (personal flotation device). While on one of our rafting trips, the guides will tell you when it's okay to take a dip, they'll make sure you're properly wearing a PFD, and they'll teach you how to safely swim (ie, don't try to stand up). Finally, they'll be there to help you out when you're ready to come back into the raft. The reality though, is that we field this question endlessly from people not joining us on a rafting trip, and the answer "come rafting and we'll go swimming" just isn't helpful. So while we believe your best bet is with a guided tour, we feel it's important to share best practices to make sure you can enjoy the Kern River safely.
When to go swimming in the Kern River
Similar to how you wouldn't dive into the ocean when the seas are rough, you should avoid the river when the flows are high. Broadly speaking for rivers across the board, the lower the river flow, the safer your swimming experience will be. Our suggestion for the Kern River is 1,000 CFS and lower.
Where to check the river flow: Dreamflows website is your best bet. The Upper Kern flow can be found here, and the Lower Kern flow can be found here.
Wear a lifejacket
When incidents occur on rivers, the most common denominator is one item: Not wearing a PFD. The same is true on the Kern River, which is why we put so much emphasis on this: Always wear a properly fitting PFD. Even in sections of what may appear to be calm water, always have one on. We care so much about this that we even started our own Loaner Lifejacket program.
Keep in mind, a pool toy or inner tube is not an adequate substitute for a PFD. These can deflate, are not Coast Guard certified and can not be properly fitted to a person.
Don't stand up, avoid trees, and stay in one spot
Swimming in a river is nothing like swimming in an ocean or lake. Current in a river is continuous, meaning it is constantly trying to push you downstream. This makes for exhilarating and fun whitewater rafting but it also means you can't lazily float without a care in the world and cocktail in hand. With this in mind, we recommend that once you've found a swimming hole, you stay there. Don't swim downstream with the river into unknown currents and eddies. Pay attention to your surroundings and actively stay in your location. The other important item is to not stand up. Standing up presents the possibility of what's known as "foot entrapment." This can occur when your foot becomes stuck under a rock, and then the current holds you in place – sometimes underwater. On commercial rafting trips we stress the importance of the swimming position (photo at the top of this post) which basically means we want to see your toes above the surface of the water. If we can see your toes then you are minimizing any foot entrapment possibility. Finally, it is important to avoid trees and branches that are in the river. When current moves through these, they are known as strainers (think pasta strainer). What this means is if you swim into a tree or branches you can get pinned by the tree with the water flowing past you. This is dangerous because when you're swimming you are sitting low in the water (compared to a raft) so the water won't just flow past you, it will try to push you around the strainer, and the easiest way to do that is down and under.
Finally: Where to swim in the Kern River
If the water flow is low, you have properly fitting PFDs, you have an understanding of what not to do (don't stand up), then the next step is choosing a location. When all of the above criteria checks out, you'll find our river guides going to two places: The Curve or the lake. The Curve is aptly named for the bend in the road that the river is next to, and the lake is popular simply because it is such a safer place to take a dip.
Feel free to contact us if you have any comments or questions. Each and every year we put out information to help the public in hopes of minimizing incidents, so feel free to share this post.