When the water is low and the sun is out, tubing down the Lickety Split section of the Kern River is a highlight and for many, a rite of passage. Not to be confused with a lazy river float, Kern River tubing is a full-on adventure, as you'll tackle a handful of rapids as you make your way down the 1.73 mile run. There are important considerations to pay attention to though, and this post will go into those items to help ensure you have a memorable and safe experience.
While we don't offer tube rentals, you can buy a tube online using Amazon. This is a popular and affordable option.
Wear a Life Jacket
Whether you call it a PFD or a life jacket, it is critically important that you wear one while tubing on the Kern River. Even though wearing a life jacket while tubing might seem like overkill, keep in mind that a tube can easily deflate, or if you accidentally flip over, separate from you entirely. A PFD on the other hand, won't pop, can't separate from you, and is Coast Guard approved.
The vast majority of serious river incidents involve someone not wearing a life jacket. Just wear one and don't become a statistic.
Only go during low water
Kern River tubing is a low water activity. You shouldn't go during medium or high river flows. The rule of thumb for the Lickety Split section of the Kern River is when the water is between 200 – 500 CFS. Nothing higher. Below 200 CFS it can still be fun, but be prepared to get stuck quite a bit. Below is a river guage showing you the flow.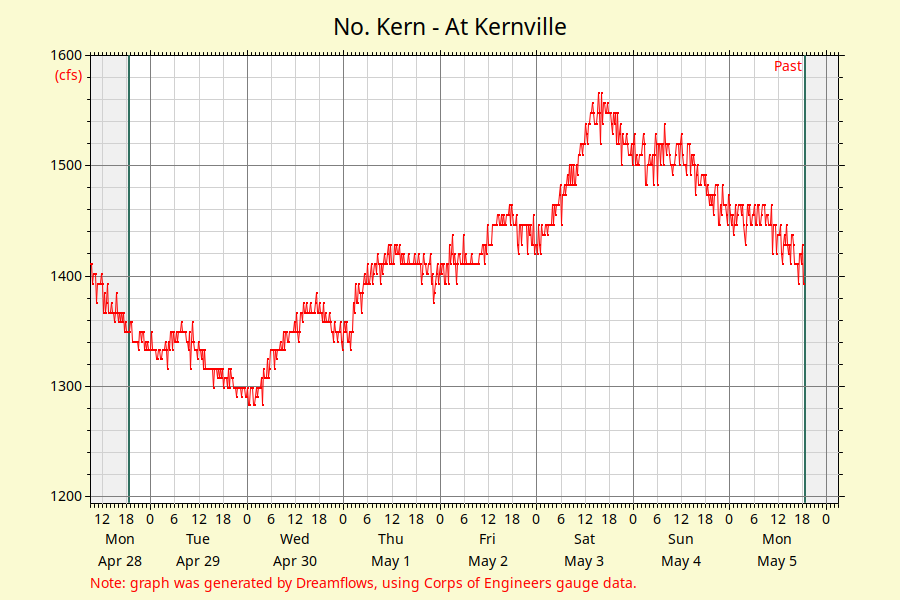 Where to go
The tried and true Kern River tubing run is the Lickety Split section of the Upper Kern river. At any water flow, you should avoid the Lower Kern. It's just not set up well for a tubing run and the numerous trees present a real strainer hazard. Sections besides the Lickety Split of the Upper Kern should be avoided as well. The best part of the Lickety is it's easy to arrange a shuttle and there are usually many others out there with you.
Final pointers
Kern River tubing is not a solo activity. Always take a buddy with you (or more.) Safety in numbers is a real thing and should be followed here.
Alcohol and rivers don't mix. Don't drink alcohol before or while tubing.
It can't be said enough: Wear a life jacket. It could save your life.
Use a decent tube. Leave the old leaky tube at home. We've had good luck with these tubes here.