Kids love rafting trips. They get to be outside. They can splash their friends. They get to go swimming between the rapids. Maybe even take the plunge off the jump rock. But this doesn't mean that all rafting trips are kid-friendly.
In fact, "Is this a good trip for kids?" is a question we get daily and it's a good question too, because it's important to find the best fitting trip for the group or family. We don't want to put a group into whitewater that's literally over their heads and we also don't want it to be so mild that the younger paddlers are bored and uninterested in the trip. While the Kern River is primarily Class IV, which requires a higher minimum age, there are some Class III sections that allow younger passengers to enjoy the river, rapids and canyon. And for the really young whitewater enthusiasts, there are better suited rivers and sections out there, which we've listed. That way everyone can get on the water, even if it's not on the Kern River.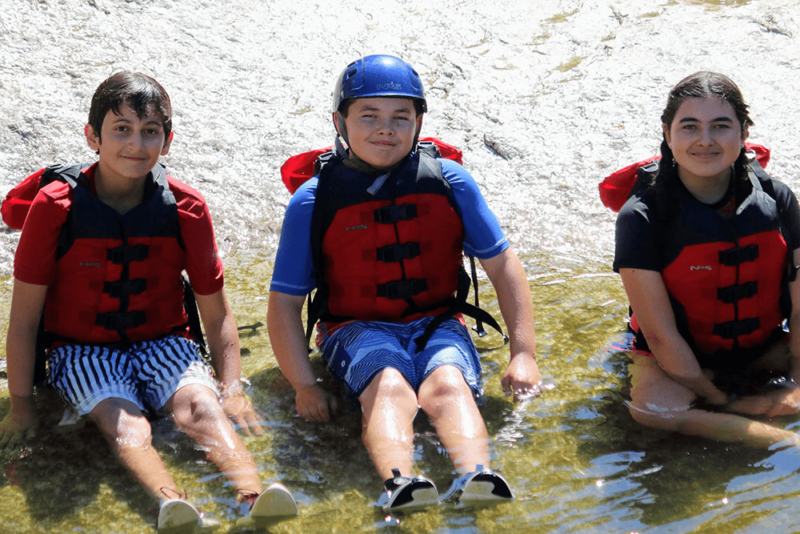 Kern River Outfitters' minimum age policy
Class III: Minimum age: 8 years old
Class IV: Minimum age: 12 years old
Class V: Minimum age: 16 years old
Kern River Class III trip options
We offer three Class III rafting trips on the Kern River. The Kernville Rapid Run is a short trip on the Lickety Split section of the Upper Kern. It has a minimum age of eight and gets into some Class II and III rapids. It's a short trip coming in at about 3 hours long and because it's located on the Upper Kern tends to be offered in May and June only.
Our Half Day Class III on the Lower Kern is a great "welcome to rafting" trip offering. Parents love it for first time rafting kids as it has some long rapids, deep calm pools, an optional jump rock, and before you know it, you're pulling into the take out eddy.
Finally, our Class III One Day overlaps on the same section of our Half Day, except we start higher up in the canyon, we spend more playing on the water and we break for a lunch halfway through the trip. For those with young kids looking to spend an entire day on the water, this is the ticket.
What about for kids under eight years old? With our company, we're not a great fit for really young kids. Most of what we do is Class IV, and as of now, we feel that the youngest for Kern River Class III should be eight. But that doesn't mean that you won't be able to go rafting. There are other options out there that fit younger age ranges.
Table Rock Float, Rogue River
Location: Southern Oregon
Whitewater: No
Minimum Age: 3 years old
Length: Half Day
Cost: $89 / person
With a minimum age of three years old, this float trip has the youngest minimum age of any river trip on the West Coast. There is no whitewater on this trip as you float through this Upper Rogue scenic section. Learn more here.
The Nugget Section, Rogue River
Location: Southern Oregon
Whitewater: Yes
Minimum Age: 6 years old
Length: Half Day
Cost: $99 / person
The half day Nugget is Ashland Oregon's local whitewater run. The river meanders through a beautiful landscape and features two exciting Class III / IV rapids, Nugget Falls and Powerhouse. The rapids are manageable and a thrill for kids. Learn more here.
Wild and Scenic Rogue River
Location: Central Oregon
Whitewater: Yes
Minimum Age: 6 years old
Length: 2 – 4 days
Cost: Varies
The Wild and Scenic section of the Rogue River is a paradise vacation for young families. Fun, splashy rapids, warm water, plenty of wildlife, and catered camping means it's a trip that kids absolutely love. Learn more.