Fire lookouts have a fascinating history in the Forest Service. Two events specifically created an influx of them being built: 1) The fires of 1910, which you could consider to be the first mega-fire event in the United States. This showed the need for an early detection system, which at the time, meant fire lookouts. And then 2) the Great Depression led to the formation of the CCC, which in turn, built quite a bit of them before our entering of World War II. (Source.)
In the Kern river area – and admittedly I'm using that term loosely for this post – has five fire lookouts. This post summarizes each one. Later, I'll do individual posts highlighting each lookout.
Mule Peak Lookout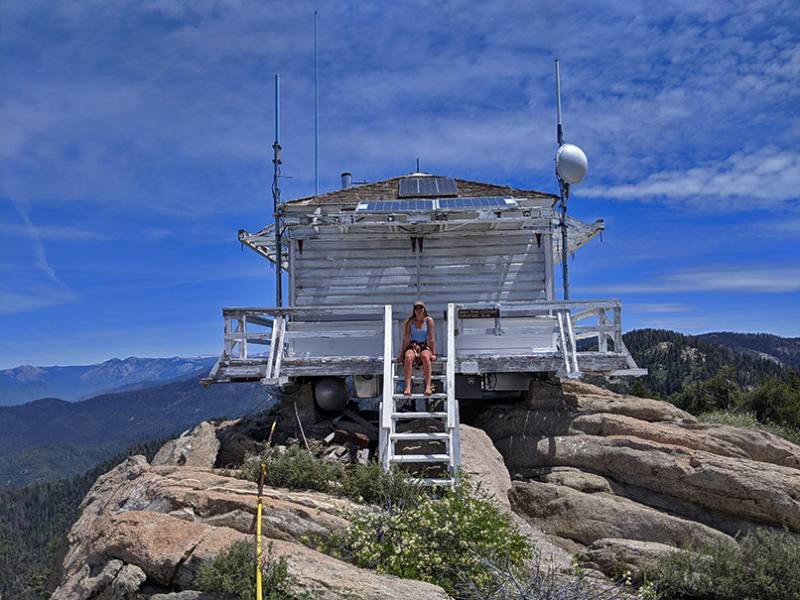 Mule Peak Lookout was built in 1935 by the CCC. It sits at an elevation of 8,142 feet. The trail to access it is occasionally steep but not very long at about 1.2 miles round trip. The views, as they should be, are incredible. From Kernville, the drive to the trailhead is an hour and fifteen minutes. An easy and enjoyable trip itinerary is to do this hike and enjoy the views in the morning, and then head down to the town of Ponderosa and grab lunch at the Ponderosa Lodge before cruising back to Kernville.
Location: Google Map coordinates.
Elevation: 8,142 feet
Access: Hiking
Drive time from Kernville: 1 hour 20 minutes
Additional information: Forest Service, and Kern River Sierra
Tobias Peak Lookout
Also constructed by the CCC in 1935, this lookout sits at 8,284 feet. This is a popular visit for young families as you can drive practically right up to it – no hiking involved. Keep in mind, that it is recommended that you take a high clearance four wheel drive vehicle, leave the Tesla behind. Once there, you'll have wide views of Mt. Whitney and the Golden Trout Wilderness.
Location: Google Map coordinates.
Elevation: 8,284 feet
Access: Driving
Drive time from Kernville: 1 hour
Additional information: Forest Service PDF #1, Forest Service PDF #2, and FireLookouts.org
Oak Flat Lookout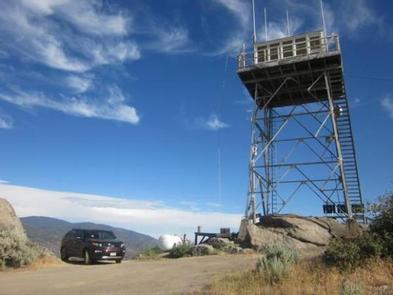 Sitting at just 4,900 feet, Oak Flat is the shorter sibling to the other Kern River area lookouts. I couldn't find the construction history of Oak Flat, but since it was built in 1934, I suspect it was also done by the CCC. Oak Flat you can also drive to, and what makes it special is you can rent this fire lookout for the night. Waking up to 360 views at just $75 / night means this Forest Service rental typically books up for the season the day it goes online so be quick with checkout if you're hoping to reserve it.
Update: According to an online review posted on 4/14/21, Oak Flat has been reported as "….vandalized and destroyed." We have inquired with the Forest Service and they have confirmed the current closure due to vandalism.
Location: Location removed due to vandals.
Elevation: 4,900 feet
Access: Driving
Drive time from Kernville: 1 hour 30 minutes
Additional information: Recreation.gov reservations, and Forest Service
Bald Mountain Lookout
Standing at 9,430 feet, Bald Mountain Lookout is the tallest lookout on our list. It was built in 1955, however, according to this website, two other lookouts nearby were also named Bald Mountain Lookout, with references first appearing in 1935, which aligns with the construction timing of the other lookouts. This lookout you can drive to.
Location: Google Map coordinates.
Elevation: 9,430 feet
Access: Driving
Drive time from Kernville: 1 hour 45 minutes
Additional information: Forest Service, and Firelookouts.org
Breckenridge Lookout
Breckenridge Lookout is located at 7,548ft and is the furthest southern lookout in the Sequoia National Forest. The original lookout was a "crows nest lookout" built in an 87 foot tree in 1912. In 1931 a wooden tower was built next to the tree and was used until 1944 when it was replaced with a structure built by the CCC. During WWII the Breckenridge Lookout was used by the Aircraft Warning Service to watch for enemy aircraft. (Source)
Location: Google Map coordinates.
Elevation: 7,548 feet
Access: Driving
Drive time from Kernville: 1 hour 30 minutes
Additional information: Sequoia, and Firelookouts.org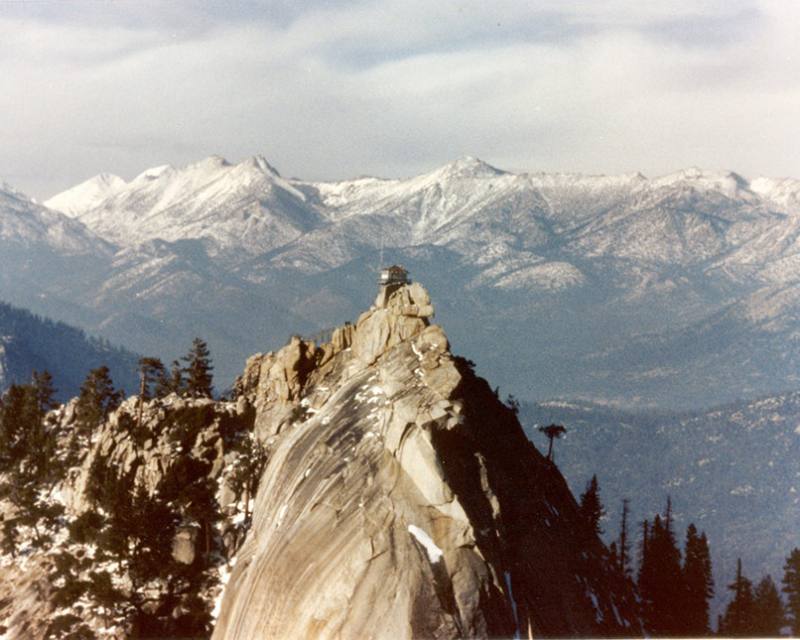 The Needles lookout was the most iconic lookout in the area as it sat on top of a dramatic rock spire in the Needles formation. Sadly, it burned down in 2011. A proposal to rebuild the lookout was submitted in 2013, however, in 2019, the project appeared stalled indefinitely as the economic barriers and engineering requirements were significant. Teresa Benson, Forest Supervisor for Sequoia National Forest, stated: "After years of work with partners trying to rebuild the tower, today's safety regulations and cost of materials at such a remote site have so far kept it from being accomplished."